Verstelbare dimbare Downlight 9W 3,5 inch LED verzonken plafondverlichting.
1: Hoogwaardig gegoten aluminium materiaal, goed voor warmteafvoer.
2: Hoge energiebesparing, 90% energie dan de gloeilamp.
3: Gebruik hoge helderheid Samsung SMD5630 LED-chips als lichtbron, speciaal anti-glare ontwerp. Hoge helderheid en laag energieverbruik.
4: Hoge PF, PE en IP67 geïsoleerde constante huidige LED-driver, werkstabiel, levensduur is tot 50.000 uur.
5: Eco-vriendelijk, geen UV of IR-straling, geen straling, geen flikkering, geen interferentie, lood of kwik, of andere gevaarlijke stoffen.
7: eenvoudige installatie.
LED verstelbare inbouw LED downlights 9W 3,5 inch
Gedetailleerde productomschrijving
Vermogen: 9W werkspanning: AC110V / AC220V
Lamplichtstroom (lm): 774lm CW Kleurtemperatuur: 2800-3200K, 3800-4200K, 6000K
Garantie: 2 JAAR Merk: Kehei
9W Magic afneembare 2.5 / 3.5 Inch Led Downlights met Samsung Chips 86lm / W lichtefficiëntie

Snelle details van led-downlights:
Merknaam: KEHEI Model No: CD-11002209S
Vermogen: 9W Item Type: 2.5 '' / 3.5 '' ring LED-downlight
Uitsnede: 125-135 mm Lichtbron: Samsung 5630 SMD uit Zuid-Korea
Input Votage: AC110V / AC220V Werktemperatuur: -40-60 ℃
Garantie: 2 JAAR Certificeringen: CE, ROHS

Handelsvoorwaarden:

1. Betalingstermijn: T / T vooraf, Western Union, PayPal, L / C.
2. EXW / FOB Shenzhen
3. Productietijd: 3-15days
4. MOQ: 20 st

Specificaties van 2.5 '' / 3.5 '' ring LED downlights 9W:

Modelnummer: CD-11002209S
Lichtbron: Samsung 5630 SMD uit Zuid-Korea
Vermogen: 9W
Werkspanning: AC110V / AC220V
Lumen: WW: 714lm CW: 774lm
Stralingshoek: 140 °
Ra:> 80
Power Factory (PF):> 0,95
Lichtrendement: 86lm / W
Brutogewicht: 270 g
Afmeting: Φ145 mm, uitsparingΦ125-135 mm, H53mm
Schaalmateriaal: aluminium materiaal
Cover materiaal: pc-hoes

toepassingen:

1. Landscape Accent / Spotverlichting
2. Architecturale verlichting
3. Toon Case Accent
4. Kunstwerkverlichting
5. Stemmingsverlichting / Algemene verlichting
6. Pretparkaccent
7. Commerciële verlichting, huisverlichting
8. Hotels

Notitie:

1. Gepatenteerd product, patentnummer is in behandeling.
2. 5W en 9W modules om aan verschillende verzoeken te voldoen.
3. Efficiëntie 86lm / w, kan ERP A ++ standaard bereiken.
4. 4 delen kunnen worden geassembleerd tot 4 verschillende downlights.
5. Dimbare en niet-dimbare functie.
6. 2.5 "en 3.5" maten kunnen optioneel zijn.
7. CCT: 3000K / 4000K / 6000KPackage & levering:
12 stks / Ctn, Meas: 415 * 215 * 470mm GW11KGS

Foto's van 2.5 '' / 3.5 '' ring LED-downlight 12W: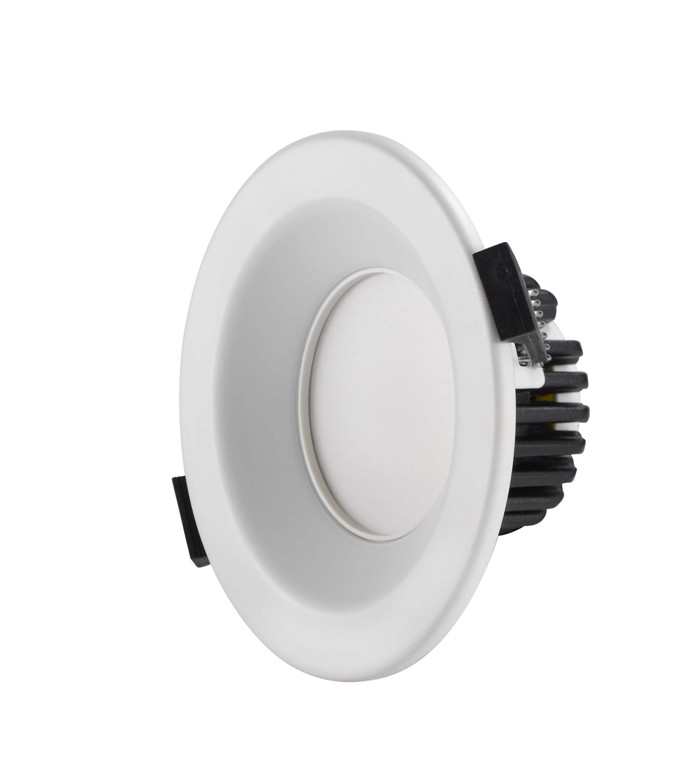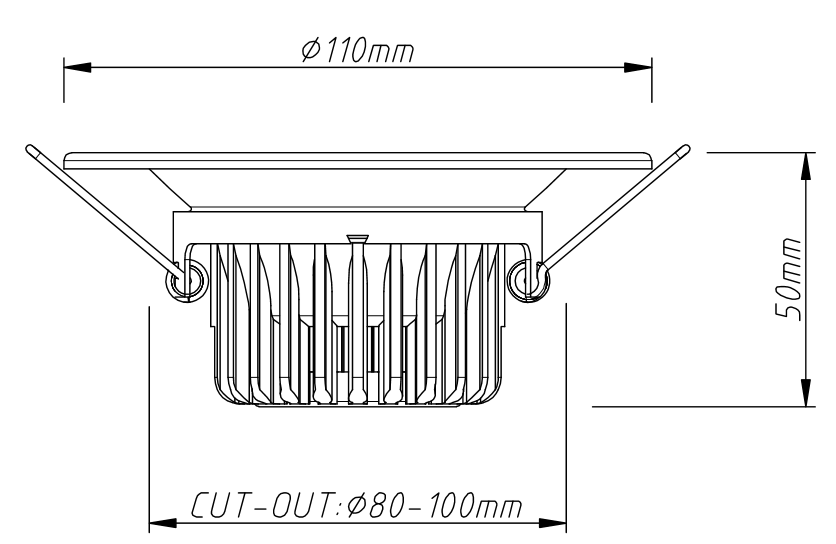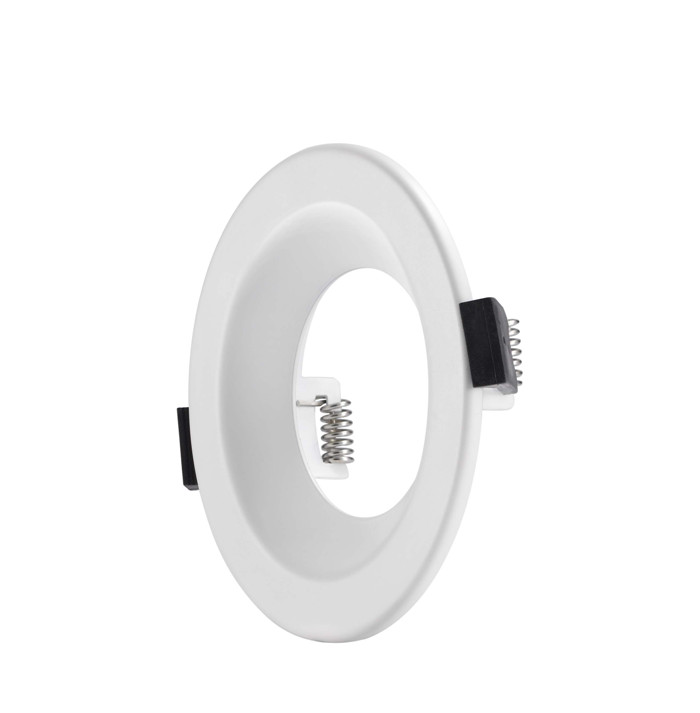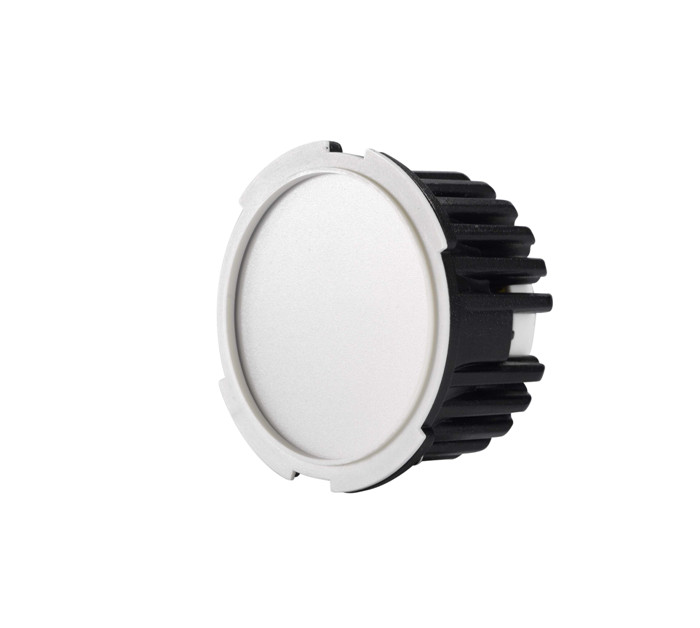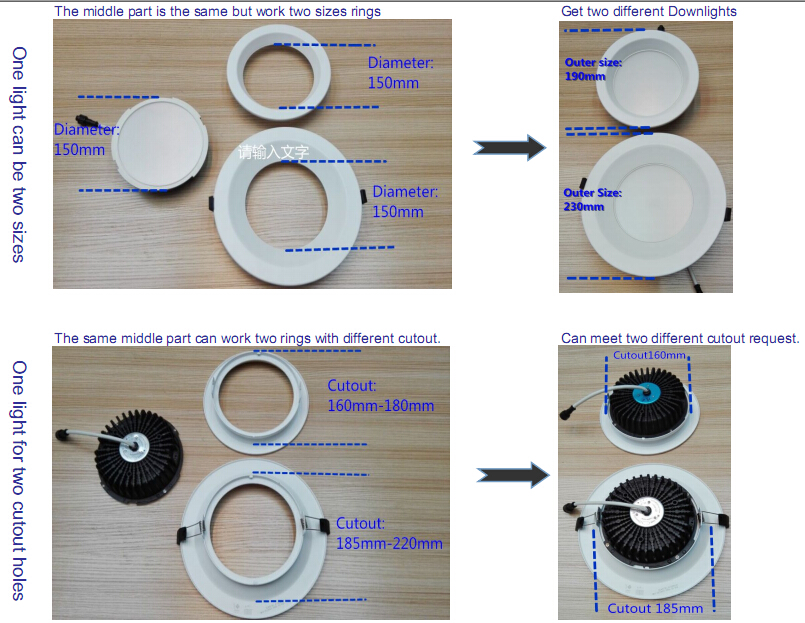 Product Categorie : LED downlighters > Dimbare Downlight